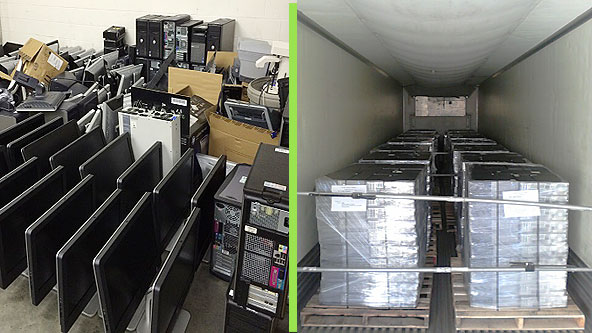 Experienced Pack-and-Ship Services for All Your Asset Recovery & Reverse Logistics Needs
In an increasingly technological world, the demand for premier-quality asset recovery services has skyrocketed. Corporate and small-business "refresh initiatives" are on the rise, and chain-of-custody asset tracking is becoming essential. In response, One Source Freight Solutions has made asset recovery and reverse logistics a hallmark of the many logistics solutions services we offer our clients. In fact, our time-tested, proprietary Asset Recovery Process is setting an industry standard for exceptional handling, tracking and transport, with proven consistency, visibility and reliability.
Full-Service Reverse Logistics
With such an increasing demand for asset recovery—especially in the e-recycle business segment—One Source focuses much of its efforts on providing fully turnkey service solutions, regardless of the size or nature of the job. From packing of assets throughout their transport and final delivery, our highly experienced, trained and dedicated One Source team relies on an industry-leading multi-step process to ensure that our clients' assets are handled with the utmost care. And, throughout their journey, be assured that compliance, timely and accurate reporting and complete professionalism are One Source commitments.
'Capture' & 'Verification' Scanning
One Source takes our asset scanning service to the highest level of performance. Our proprietary, online scanning technology enables us to engage two key functions: the capture and the verification of serial numbers and/or asset tags. The "capture" function is critical in the absence of a pre-existing serial number or asset tag list, and "verification" when the numbers are available. The process ensures accurate asset tracking and accountability throughout every phase of the e-recycle asset recovery transportation process.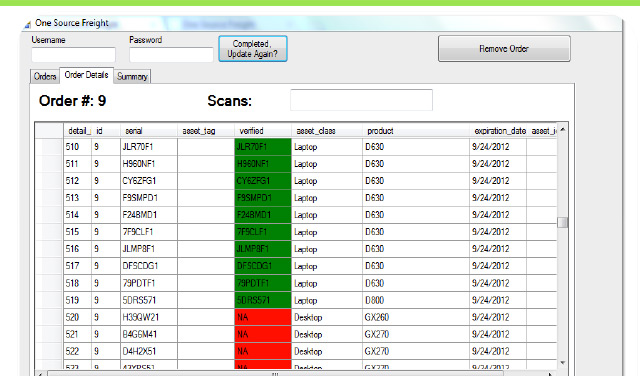 One Source and "SERI"
At One Source, the increasing importance of sustainable e-recycling is never far from our minds. That's why our e-recycle reverse logistics services prioritize adherence to the Sustainable Electronics Recycling International (SERI) "R2" standards. As much as possible, One Source aspires to be a part of the solution to e-waste reuse and recycling worldwide.
With One Source Freight Solutions, Expect the Best . . .
Among some of the highlights of the One Source asset recovery logistics service offerings, you can rely on:
Complete chain-of-custody, "white glove" expertise, through packaging, transport and delivery.
Online reporting from pickup through delivery to your secure facility, using One Source's state-of-the-art TMS system, along with photos, PODs and inventory lists.
Customer-focused flexibility, whether a job calls for full-scale pack-and-ship or simply transportation of pre-palletized assets.
Sophisticated, proprietary onsite scanning capabilities to ensure accurate recording and reconciliation of all inventories throughout the recovery and delivery process.
Secure lockboxes and trucks, numbered and sealed throughout asset transport.
Need More Information?
To inquire about One Source Freight Solutions' asset recovery services, please contact John Genzale, Director of Asset Recovery Logistics, at (480) 525-9050, or via email at John.genzale@onesrc.com.