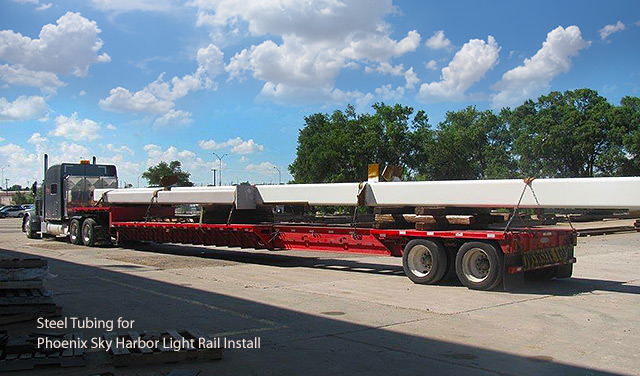 The One Source Mission
"To provide our customers with superior service through proven standardized processes that improve efficiency and compliance, and control costs."
Our History: Decades of Dedicated Service to the Logistics Solutions Business
Founded in 1997 in Phoenix, Arizona, where it is still headquartered today, One Source Freight Solutions has grown from a small, local transportation and logistics services company to become a major player in the burgeoning logistics solutions business, providing a wide range of logistics services in an array of industries, including construction, electronic recycling, communication, renewable energy, cell tower, asset recovery and many others.
Exponential Growth
Our beginnings were as humble as they were promising. Initially, with just two employees and some background in fulfillment management, we decided to see if we could fill a gap we had observed in the transport services business. We knew that there was an absence of flexible, truly personalized service in this business niche, and we decided to put our experience and passion for extraordinary customer care into it. We called ourselves "One Source Freight" to cover a number of different modes of transportation under one company name.
Our first two large accounts were an auto parts supplier and a cellular phone service company, both of which needed products and other materials shuttled to and from Phoenix's Sky Harbor International airport. We purchased a second-hand, 24-foot box truck to carry freight and, later, to handle the expanding airfreight needs, we established a network of agents throughout the U.S., and set up accounts with the airlines. At the time, that was our primary business.
As our reputation for providing exceptional, personalized service grew, so too did our business. We generated a few referrals from satisfied customers, and—again, based on the excellence of our service and the increasing quality of our team—we began to grow exponentially.
Going Global
Today, nearly two decades later, our growth continues due to our focus on hiring the right people to support what is true to our hearts: "personal customer service."
We know our clients simply want to be treated with respect and integrity. It's why our staff is made up of service-oriented professionals who understand our clients' needs, and have a passion for developing long-lasting relationships based on trust and dependability.
From our humble beginnings as a small, local company, One Source Freight Solutions today is extremely proud to be approaching status as a truly international logistics solutions provider, carrying the once local OSFS tradition into the global logistics future.