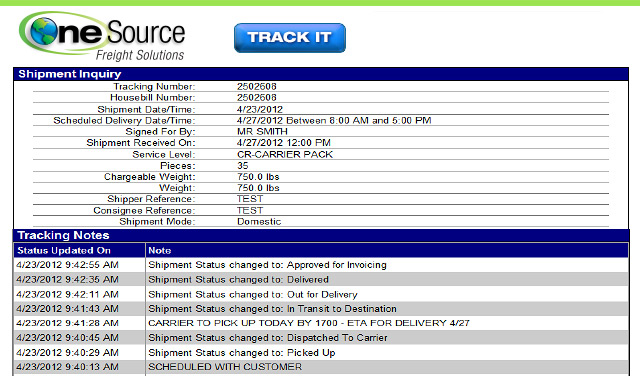 Onsite or on the Road, Full-Service Visibility is a Key Component of the One Source Promise.
Complete, up-to-the-minute visibility of assets in transport is becoming a byword in today's complex transportation logistics environment. Real-time tracking and documentation every step of the way is no longer just an added benefit, it's fast becoming a necessity.
That's why One Source Freight Solutions has prioritized development of our proprietary onsite and on-the-road tracking system that offers our clients total visibility throughout the entire cycle of their asset recovery process—from point of origin to ultimate destination. Along with a system that makes use of some of the most sophisticated, user-friendly technology, our tracking and scanning capabilities ensure that you—our customer—know precisely when and where your valuable assets are during every phase of their journey. Following are just a few of the One Source tracking and reporting features available to you as you may require them:
Secure login
Custom-tailored reporting
Automatic email status updates
Comprehensive shipment tracking—anytime, anywhere
Downloadable shipment documentation, reports, inventory lists and photographs
Need More Information?
If so, we'd love to hear from you. For any asset recovery or visibility-related questions you might have, please contact: John Genzale, Director of Asset Recovery Logistics,
at (480) 525-9050, or via email at John.genzale@onesrc.com.