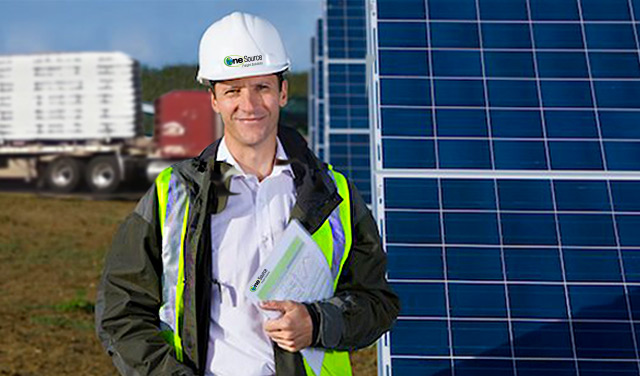 The Perfect Alliance of 'People, Processes & Partners' to Answer all Your Logistics Services Needs
One Source has been perfecting best-in-class, personalized "one source" logistics services and supply chain management to support the growing needs of a wide array of clients large and small for nearly two decades. As a third-party, full-service logistics solutions provider, we distinguish ourselves by working strategically with our clients in a variety of industries—construction, renewable energy, electronic recycling, communications (cell tower) and many others—to create custom solutions across a broad spectrum of logistics-centered project needs.
With demonstrated supply chain and chain-of-custody expertise, One Source employs flexible and adaptable tools and techniques to bring our clients from around the globe innovative solutions, helping them reduce costs and save time through proven process efficiencies.
Three distinct niches of logistics services
As our business has grown and evolved, we've created a fully realized business philosophy, a set of working values and time-tested management processes that accentuate our services in three distinct—yet related—niches of the logistics services business:
Asset Recovery: Logistics Solutions with an Emphasis on Service
One Source's asset recovery team focuses on fully comprehensive, logistic service solutions for the electronic recycling and refurbishing industry, with an emphasis on superior customer service, compliance, security, reliability and proactive communications. Learn more about about One Source's Asset Recovery service solutions here.
Project & Logistics Services: Experience and Know-how in Key Industries
Our focus on project services delivers the most innovative solutions for a variety of logistics needs. One Source manages logistics services in the commercial construction, renewable energy and telecommunications industries. Whether it be telecom equipment removal, job-site logistics, route planning and scheduling, inventory management and consolidation or a host of others, One Source has the resources to handle the job. For more information about One Source's project services, please click this link. 
Freight Services: Dependable, Flexible and Professional
Being a non-asset-based logistics services provider enables One Source Freight Solutions to bring fully customized, turnkey solutions to the entire spectrum of our clients' transportation needs. With the experience and capability to handle everything from airfreight (air and expedited ground), ocean, truckloads (dry vans, refrigerated trucking, flatbeds), LTL (regular, volume and partials), rail (intermodal and boxcar), local pick-up and delivery, and specialty equipment on a national, regional and local basis, One Source is the "one source" freight solutions provider for all our clients' transportation-related project needs. Learn more about One Source's Transportation services here.