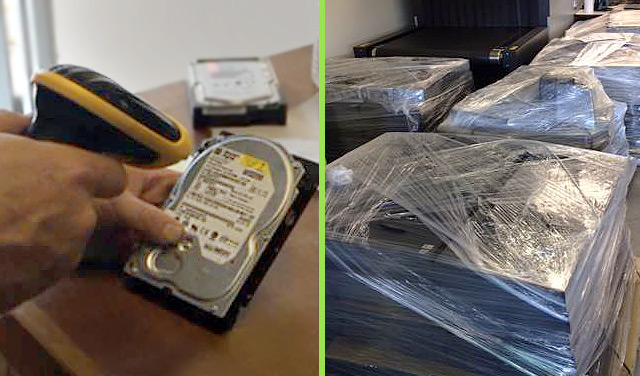 Integrated Logistics Services and Solutions Designed With Your Needs in Mind . . .
As a comprehensive solutions provider, One Source Freight Solutions offers a full complement of varied service solutions to our customers under the broad "Asset Recovery" banner.
Because recycling companies' needs are many and often highly unique, One Source has tailored our service offerings to be as personalized and flexible as our customers require. Regardless of the size, scope or location of your project, or its particular requirements, One Source is prepared to help you find the perfect solution. Following are some of our more mainstream integrated logistics services:
Onsite Inventory 'Pack-and-Ship' – Our basic nationwide service includes recording inventory and documentation of all assets being retrieved, recording and notating pertinent details, and then carefully packing and palletizing your assets for shipping.
Onsite Scanning – Our sophisticated onsite scanning capabilities promote optimal visibility and chain-of-custody accuracy.
Secure Transport – When data sensitivity is a concern with your assets, One Source offers the perfect solution—a fully secure environment to ensure that their integrity is fully maintained. Whether you require lockboxes and/or sealed truckload transport, or any other secure transport mode, One Source has the solution, ideally suited to meet your needs.
LTL/Truckload/Expedited/Time Definite – A variety of shipment modes and handling protocols designed for the size, scope and budget your job demands.
Site-to-Site Transfers/Insurance/Declared Value Moves – Designed for assets that are slated to be resold and/or transported from one company location to another for reuse.
Refresh Projects – We can manage refresh projects of any size or scope. Whether 10 locations or 1,000, our service offerings are comprehensive and consistent.
Collection Events – Public recycling events always have special handling needs, and One Source will work with you to provide the best possible service and solution, regardless of the event's complexity.
Data Center Moves – Moving technological equipment from one data center to another often calls for a detailed, multi-stage plan with nothing left to chance. One Source will work with you to make sure it runs smoothly.
Lease Returns – Leased equipment is more and more prevalent today, and comes with its own unique return shipment policies and requirements. We're highly experienced at handling returns for the lessor.
Union Labor/Certificate of Insurance (COI) – When union-managed facilities have particular labor or insurance requirements for pickup and delivery services, our network of vetted service partners includes professionals who maintain necessary affiliations, policies and certifications.
Need More Information?
To inquire about One Source Freight Solutions' asset recovery services, please contact John Genzale, Director of Asset Recovery Logistics, at (480) 525-9050, or via email at John.genzale@onesrc.com.