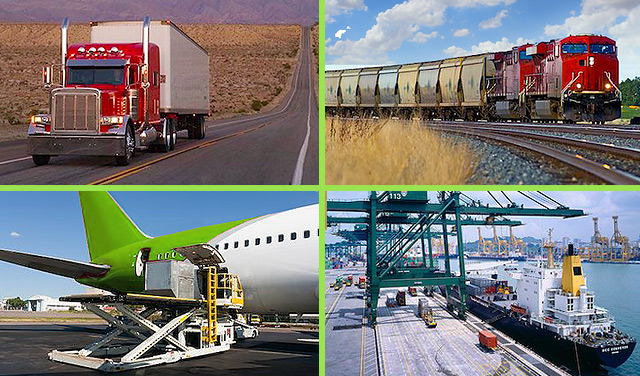 Freight Services: Timely, Comprehensive Solutions to Address Your Freight Management Logistics Needs
Transportation—in many modes—is at the core of nearly every logistics project. Over many years, One Source Freight Solutions has built its reputation for premier customer service by bringing flexible, comprehensive, thoroughly optimized freight management logistics solutions to its clients.
To provide the level of quality services that we offer, we maintain an up-to-the-minute network of thousands of local, regional and national transportation partners, every one of which is fully vetted by the One Source compliance team. Our stringent carrier qualification process ensures that each of our carriers transports shipments with a focus on optimal service, including: safety, licensing, insurance, and federal and state regulatory compliance. What's more, our advanced tracking system enables us to maintain timely communications, monitoring pickup and delivery performance and providing us the data to run instantaneous service reports on our providers for any given job.
At One Source, we take particular pains to guarantee the highest levels of personalized customer service, ownership and accountability, all of which are designed to ensure that transported materials are handled timely, safely and error-free.
Ground Transportation: From Local Pick-up & Delivery to Cross-Country . . .
We recognize that the key to successfully servicing our customers is in our ability to live up to our name and offer them true "one source" transportation and logistics solutions. To that end, our roster of custom-designed, over-the-road transport service solutions and freight management logistics is as comprehensive as it is flexible. With dry van, refrigerated and flatbed options available in many transport categories, our list of services includes (but is not limited to):
Full Truckload
Less-than-Truckload (LTL)
Expedited
Partial
Intermodal (Rail) Transport
One Source's intermodal (rail-based) services provide an attractive option in helping to achieve timely logistics scheduling as well as significant cost savings. Using our vetted network of first-rate intermodal providers, we offer our clients highly flexible solutions and competitive pricing.
Air Services
Air services are an important component of One Source's transportation options. For time-sensitive, expedited shipments, they're often the best solution. One Source maintains the airfreight expertise and appropriate air carrier partnerships to ensure that all domestic and global air shipments are handled with the utmost care, timeliness and cost-effectiveness.
Ocean-going Services
As One Source's business scope expands, demand for ocean-going transport services is on the rise. One Source's global partnership network includes ocean operators that are enabling us to offer highly competitive rates and consistent sailing schedules for each shipment. Our experienced One Source general services team takes full accountability for the shipment. We focus on providing our clients with visibility, control, and proactive customer service during the entire seagoing shipping process.
Specialized Services
As an extension of our transportation services, One Source maintains a full complement of related "specialized" services to help deliver a truly "one source" solution for all our clients' transportation needs. Our warehousing service, for instance, is a key component of OSFS's transportation services  and freight management logistics offering. Additional specialized services include:
Trade Shows
Rigging Services
Crane Services
Heavy Haul
Over-Dimensional
Last-Mile Delivery
Contact Us!
For more information about the One Source Freight Solutions' Transportation Services Division, please contact Mike Zobeck, Director of Freight Services, at (480) 525-9080, or via email at Mike.zobeck@onesrc.com.